Main objective of earthing is to provide an alternative path for the fault current to flow so that it does not endanger the user of damage the equipment. Ganpati Electricals (P) Ltd. offers a complete range of high quality electrical earthing materials used widely in earthing systems and playing a vital role in all electrical systems. These are used in various industries like Electrical, Electronics, Automobile and Engineering etc. We supply earthing material in various standard specifications, but these can be also custom made as required by the clients. Our range includes Earthing Pipes, Earthing Strips, Pipe Electrodes, Earthing Plates, Earthing Wire, Tension Clamps and Manhole Covers etc. Other than supplying earthing material, we can also help the client in installation of all types of earthing like Maintenance Free Earthing, Plate Earthing, Strip Earthing and Pipe Earthing etc.
Earthing Pipes :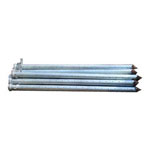 Also called Pipe Electrodes, these are used widely in power transmission applications. Our hot dipped GI and Copper earthing pipes with funnel are robust in construction, easy to install and durable in performance provide good earthing. These are fabricated using premium quality raw material and are available in sizes like 20mm dia, 50mm Dia, 65mm dia and 75mm dia in lengths varyng from 1 meter to 3 meters or as desired. Our pipe electrodes are accurate in dimension, corrosion resistant and high in tensile strength.
Earthing Strips :
We bring forth a range of earthing strips in various sizes and specifications to meet the diverse requirements of the clients. Their thickness may vary from 3mm to 6mm and width from 15mm to 100mm. Our strips are made of good quality GI, Copper or Aluminum. The strips have good thermal and electrical conductivity. Our earthing strips are dimensionally accurate, robust in construction, corrosion free and durable in performance.
Earthing Wire :
Earthing wires made of GI or Copper are extensively used in various electrical, electronic and automobile equipments. Made in various sizes using the premium grade galvanized metal, these GI earthing wires offer high durability and excellent shock resistance. Further, these are well checked on various quality parameters before being delivered to our clients.
Earthing Plates :
Earthing plates may be made of GI, CI or Copper as required. We are engaged in providing a gamut of earthing plates in various sizes as per the clients' specification and requirements. Our range of earthing plates is widely demanded in the market owing to their features of corrosion resistance, shock resistance and high durability. Extensively used for industrial purposes, these are in strict compliance with set industrial standards.
Lightning Arresters :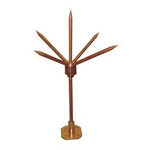 A typical Lightning Arrester, also called Surge Arrester, comprises a high voltage terminal made of Copper of Aluminum mounted on top of a building. It is electrically connected to the ground terminal through a wire to protect the building in the event of lightning. If lightning strikes the building, it will preferentially strike the lightning rod and be conducted harmlessly to ground through the wire, instead of passing through the building where it could start a fire or cause electrocution. Lightning arresters can be commonly seen mounted on tall buildings, monuments, towers, water tanks etc.
A very important point worth noting in this regard is that a lightning arrester or lightning protection system as a rule never stops the action and effects of lightning. However, it provides ample protection and insurance against the damage to the building and electrical devices. Our lightning arresters are a guarantee to this.
Manhole Covers :
We are offering a wide range of Manual Covers, catering to the diverse requirements of industries such as automobiles, construction and welding industry. These may be made of MS, CI, RCC or polyplastic. Manhole covers are available in various sizes of length, width and thicknesses as per client's requirements, most common being the following.
Manhole Cover 300mm x 300mm heavy duty Earth Pit Cover
Manhole Cover 450mm x 450mm heavy duty Earth Pit Cover
Manhole Cover 600mm x 600mm heavy duty Earth Pit Cover
Manhole Cover 1000mm x 1000mm heavy duty Earth Pit Cover
Qualities of Good Earthing :
Must be of low electrical resistance
Must be of good corrosion resistance
Must be able to dissipate high fault current repeatedly
Poor practices in Earthing and incorrect application and selection of Lightning and Surge protection devices can be the cause of continual and intermittent difficult-to-diagnose problems in a facility, often resulting in loss of production and failure of equipment. We look into these aspects from a fresh and practical perspective to help the client in reducing the losses by providing good and effective fault-free earthing.
Permanent and Maintenance Free Earthing :
We offer a Permanent and completely Maintenance Free Earthing, in which there is no need of periodic watering and recharging of ground pits. For earthing electrodes, we use two hot dipped galvanized MS flats encapsulated in ISI approved GI pipe. We do not use common salt and charcoal for filling the space around the earthing electrodes. Instead we use a specially developed gelatinous compound to maintain the earth resistance and moisture level all times at desired values irrespective of changes in weather conditions. Because of its low chloride and sulfate contents, ground conductors are not corroded. It also des not contaminate the ground water. Our maintenance free earthing has a long life close to 25 years.
Why Us :
Our products are made from premium grade raw material and are accurately designed to ensure flawless performance and long service life
Our products are in tune with international quality standard
Our products are accurate in dimension and corrosion resistant
Our engineering team regularly checks on various quality parameters before delivering the material to our clients
These are available at competitive prices and are cost effective